Koh Lanta or Ko Lanta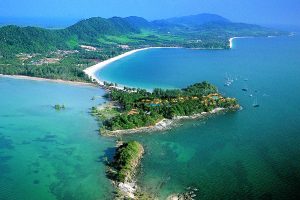 Koh Lanta is a slow and peaceful island, located just off the coast about 70 km south of Krabi. Its long coastline has beaches, some considered the finest in the country, and each one with its own charm and atmosphere.
The tourist season in Koh Lanta runs from October through April with the most visitors here December to March. An increasing number of people are visiting in Green Season (May to October) when daily rainfall usually only lasts a few hours.
Getting Koh Lanta by our service.
Saladan Town
Saladan is the main town on the north of the island.  At first glance, Saladan looks like any other unplanned tourist area with a hodgepodge oftourist oriented shops growing over the local culture and traditional buildings like a rash, but take a closer look and it gets interesting.
The local culture is still there, and pretty much unchanged in some ways, albeit peppered with a wide variety of glass fronted banks, travel agents, dive shops, convenience stores etc.  If you want to change money, go to the optical shop or buy some wine and gouda, Saladan is definitely the place to go; but after you've done your business, you can still find traditional fish mongers, markets, restaurants, fishing enclaves and plenty of traditional houses built on stilts over the ocean.  The contrast is fascinating as is the fusion, as many locals have set up shop in their homes selling all manner of brightly colored traveler necessities.  This is where the main pier and ferries are, so you will probably be here a few times on your way to and from other islands and the mainland, so a special trip may not be necessary, but try to get there a little early or stay a little late before or after one of your trips and take a little time to explore.
Kaw Kwang Beach
On the Northern tip of the island, just next to Saladan, is Kaw Kwang beach.  This part of the island is so narrow at points that you have an unobstructed view of the beach on the east and west.  The beaches are long and curved, and quite shallow so having a good swim requires a wade through the warm water.  At low tide, you can walk all the way to the little island at the tip.  Here on Kaw Kwang beach, you will find Twin Bay Resort and Kaw Kwang Beach Resort.
Klong Dao Beach
This beach is three kilometers long, with dazzling white powdery sand and the shallow, rock free water makes it safe and a popular destination for families with young children.  The first beach to develop, it is lined with resorts and restaurants which span the entire spectrum, from backpacker dorms to five star hotels.  As true of all beaches on the west coast, the sunsets are brilliant here.  Although this beach draws the largest numbers of tourists, it is long enough that it never gets a crowded feel.
Long Beach (Phrae Ae)
Phrae Ae, just south of Klong Dao, is a gently curved crescent of unspoiled white sand.  Even longer than Klong Dao (hence it's nick name: Long Beach), it is spacious enough so that one never feels crowded and can always find a stretch of beach to call one's own.  As all other beaches, it is lined with all manner of resorts and restaurants, though here they are more spread out and are concentrated on either end of the beach
Klong Khong Beach
Once a palm plantation and retaining many palm trees, Klong Khong beach is located right in the middle of the west coast, and so a perfect location from which to set off exploring.  Slightly shorter than its northern neighbors, it is also lined with all sorts of resorts and restaurants.  It has a slower, more relaxed atmosphere than its northern neighbors.  The beach is about a kilometer long with fine white sand and although rocks are uncovered at very low tides, this is not necessarily a disadvantage.  The tide pools are teaming with sea life and fascinating to explore for young and old, and make the snorkeling decent at high tide.  They also make amazing reflecting pools at low tide so instead of one stunning sunset, you see a kaliedascope of dazzling colors.  Swimming is fine a high tide so you get the best of both worlds.   There is a 7-11 and several shops where you can buy virtually anything you need.
Klong Nin Beach
At Khlong Nin, the long, white sand beach is very close to the road, but this has not stopped the scores of restaurants from sprouting.  It has developed a trendy feel and one can find more on offer than standard beach fare here, as there are a variety of ethnic restaurants.  Although the restaurants are all quite reasonably priced, they strive to create stylish interiors and create a relaxed atmosphere.  Resorts on this beach are mostly on the hill side of the beach.
Kantiang Beach / Kantiang Bay
As one travels down the west coast, the beaches get shorter and are more cove -like, which adds character and gives a feeling of having your own private beach. The mountains are higher as you go further south providing truly spectacular views from the hilly road and beaches.  The ocean views are also stunning from high vantage points.  Kan Tiang bay is the largest of these coves.  Home of the the 5 star Pimilai Hotel, there are also bungalows here to suit any budget.  The resorts are along the beach and on the hillsides both on the road side of the beach and the northern end of the beach.  A successful attempt has been made to control development here, and all of the resorts blend into the landscape very well.  While this beach and those to the south are more beautiful than the northern ones, they are more isolated, so the choice of things to do at night is less, although at Kan Tiang, there is still plenty to do.
Nui Bay, Klong Jark Bay, Bamboo Bay
Between Kantiang Bay and the national park, there are a handful of small, idyllic coves and beaches, all of which are definitely worth a look.  The road starts to get progressively hillier and there are many unpaved points, which are no problem for a car with sufficient clearance or any motorcycle, though novice riders "should" consider not chancing the slippery slopes, or should at least be very careful.  There is a daily parade to the clinic of people who have left a little skin on the unpaved sandy road.  Stops should be made at all viewpoints, most of which have accompanying restaurants, which is great because you can enjoy the views with a cold drink.  Especially beautiful is Noon's restaurant which is perched a few hundred feet above the ocean with several levels of tastefully designed platforms with natural décor and the best ocean views on the island.  The food is also excellent and very reasonably priced so this is a good place to stop for lunch.
National Park
Although a little difficult to reach, a visit to the national park is a must.  The highlight is climbing to the lighthouse, which is a few hundred feet above sea level and provides spectacular views of the beaches and ocean on both sides.  There are also walking trails through the trees and along the beach where you can see monitor lizards and monkeys.  There is a tourist information center restaurant here in the large grassy field, and the beaches on either side of the cape are beautiful and great for cooling off after your sweaty hike.  Don't feed the monkeys!
Lanta Old Town
Lanta Old town was the main town on the island, and has maintained its original feel, even though there are now a few tourist-oriented shops and restaurants here.  There are many Chinese people who have been here for generations, and near-by, there is a sea gypsy village, where the people maintain their traditional way of life. Sea gypsies are of "Austronesian" origin and can be found all over South East Asia, usually maintaining their simple lifestyle of nomadic fishing, though many have settled in one place now.  Feel free to visit during festivals, but normally, there is not much to see and the locals don't always appreciate the intrusion into their day to day lives, especially people peering into their houses and taking photographs.