Phang Nga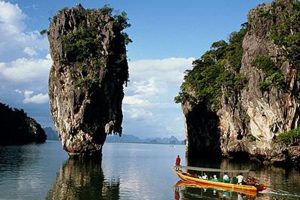 Phang Nga province is blessed with a variety of outstanding natural attractions including the stunning Phang Nga Bay, the idyllic Surin and Similan Islands, the sandy coast of Khao Lak, and
Phang Nga is a province equally renowned for its beautiful land, spectacular bay, and amazing islands; Phang Nga national parks feature magnificent scenery with immensely different attractions. Most famous is Phang Nga Bay National Park, a geological wonder filled with islets, sunken caverns, and startling rock formations rising vertically out of the sea. The bay is extremely sheltered and therefore ideal for expeditions on sea kayak that explore the many fascinating caverns and islands throughout the bay.
Phang Nga's Andaman coast offers equally stunning national parks of a different kind; the island groups of Surin and Similan are renowned for their beautiful, unspoiled beaches and spectacular underwater scenery, attracting divers from around the world. On the Phang Nga mainland, Khao Lak features a coastal park full of rare birds, exotic mammals, and scenic waterfalls, as well as many luxury and budget hotels along the spectacular coast that was devastated by the 2004 Tsunami but has since been completely rebuilt.
Not to be confused with Koh Phangan, the island in the Gulf of Thailand, Phang Nga province lies on the Andaman coast on the Thai mainland immediately north of Phuket.
Phang Nga is renowned for its spectacular beauty, particularly Phang Nga bay, which contains hundreds of island including Koh Tapu (James Bond Island), where the film The Man with the Golden Gun was shot, and Koh Yao Noi and Koh Yao Yai, which feature laid back communities that allow for cultural home stay experiences. Phang Nga is also the province that includes two groups of islands considered the most beautiful in Thailand: Mu Koh Similan and Mu Koh Surin National Marine Parks.
Along Phang Nga's Andaman seashore lies Khao Lak, a stunning coastline of expansive beaches that bore the brunt of the 2004 Tsunami but has greatly recovered, and — these two islands are little visited, yet well worth the effort. Although part of Phang Nga province, they are best visited from either Phuket or Krabi provinces. The big attraction in the bay is the spectacular karst scenery that is found through out the north of the bay.