Pakbara Pier, Satun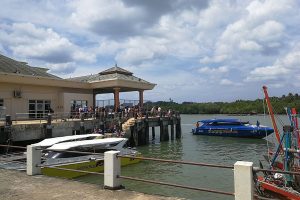 "Tarutao" is a word that was distorted from the word "Talotrao" in Malay language meaning a lot of gulf. Tarutao is a national park in the Andaman Season of AmphurMuang, Satul province. On the south of the park is only 4.8 kilometers from the Thailand- Malaysia border. It is the dream destination of the tourists since it is the center of the nature both inland and underwater. Under the water, it is the center of beautiful sea creatures including colourful corals. It consists of 51 small islands.
Tarutao National Park consists of 7 big islands which are Tarutao Island, Ardang Island, Rawee Island, Lipe Island, Klang Island, Batuang Island, Biszee Island which are divided into 2 main islands which are Tarutao Islands and Ardang-Rawee Islands.
Tarutao Island is the biggest island among these islands with the area of 152.01 square-kilometers. Most of the area consists of steep mountains, the highest mountain peak is 708 meters from the sea level. The islands on the east side consist of alternating mountains and beaches. On the west side consists of cliffs and low land at the back of the mountain. The important gulfs are such as Pantaemalaka Gulf, Son Gulf, Makham Gulf, Talohudang Gulf and Talohwow Gulf. The gulfs have canals and rivers flowing pass to the sea with a little low land on the north of the beach.