Laem Kruat Pier , Krabi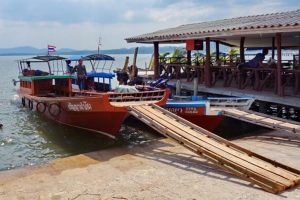 Laem Kruat Pier, Krabi – Longboat from Krabi to Koh Jum
You can get a longtail boat direct from Krabi to Koh Jum – it departs from Krabi's Laem Kruat Pier and arrives at Mutu Pier on Koh Jum's east coast.
Most travellers to Koh Jum get the ferry and longtail pickup combination during high season (November to April). However, during the rest of the year, the tourist ferries don't run. So from May to October, the only way to get from Krabi to Koh Jum is by longtail boat from Laem Kruat pier on the Krabi mainland. This service runs all year round, incidentally, so it's also worth considering if you are travelling around in Krabi already.
The longtail journey takes about 45 minutes and requires getting a taxi or a bus from Krabi Town to Laem Kruat pier on the Krabi mainland. From there the large longtail boat heads out to Koh Jum, arriving at Koh Jum's Mutu Pier. You will need a transfer from Mutu Pier to your resort as Mutu Pier is on the east side of the island while the resorts are all on the west side.
Departure times for the longtail are variable – the longtail runs between 11 am to 6pm depending on demand. The best bet is to simply turn up early and be prepared to hang around until the longtail departs. The price is around 70 Baht per passenger.
Koh Jum
Ko Jum (เกาะจำ) is a small island between Ko Lanta and Krabi Town. While the south end of the island is known as Ko Jum (or Jam or Cham), the northern part is also called Ko Phu (or Pu), and local villagers take fierce pride in the two different names.
Ko Jum has three main villages and is home to about 1500 permanent local residents. On the west side of the island are about 20 resorts which provide very simple bungalow accommodation.
Get in
Most travelers arrive via the ferries that connect Ko Lanta and Krabi, which charge about 400 baht (the same price as for the entire crossing, even though Ko Jum is at the half way point). The fare can be paid on board, but pre-booking is recommended as the ferry is often full. Tickets can be bought from travel agencies in Krabi or at the main ferry offices at the old pier on Thanon Khong Ka, and with resorts on Ko Jum. Ko Jum has no jetty or dock – the ferry stops offshore and is met by longtail boats. If you've pre-booked, then a boat from your resort should be there to pick you up; otherwise simply choose one and ask for a lift to shore.
Koh Siboya
Koh Siboya (เกาะศรีบอยา) is a small island 20 kilometers south of Krabi in Krabi Province, Southern Thailand.
Koh Siboya (see-boy-ya) is off the regular tourist trail. Other than the island's three resorts, you will find only a few local stalls selling household supplies, snacks and petrol as you explore the local culture. Koh Siboya is home to about a 1000 or so residents whose work is mainly in the rubber plantations or fishing. Dirt roads and foot paths connect the 4 or 5 small communities on this 3 x 10 km island. The lack of easy access to the island has limited transportation to either motorcycles or walking. A new community clinic is able to handle minor medical problems, but the medical staff is there only during daytime hours.
Koh Siboya escaped the destruction of the crushing tsunami of December 2004, as it was in the lee of Koh Jum, but it did have to deal with the high water surge which devastated the island's fishing fleet.